How to Profit by Going Green: Simple Strategies That Are Friendly to The Earth & The Bottom Line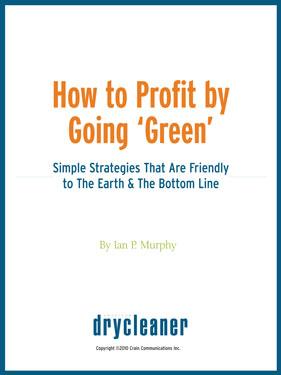 Drycleaners are familiar with the power of an "ecofriendly" message. Indeed, many operators were at the forefront of the movement, fighting poor publicity stemming from perc use. Some switched solvents, thinking that using something other than perc would improve their standing in the consumer consciousness.
Drycleaners may not think about the environment as central to business strategy unless a regulation affects them directly or a mess needs to be cleaned up. But a customer-focused, market-driven company can no longer avoid the fact that many consumers prefer "green" products and services, if the costs are comparable. Once you satisfy consumers' needs for performance, "greenness" becomes a factor in their purchase decisions.
Every part of a drycleaning operation can be engineered to be "greener." And the best part for those who do more than just "greenwash" their offerings? Most of these initiatives can pay for themselves. Going "green" is just another way to make money by giving people what they want, and this report offers simple strategies you can start to use today to "green" your operation and build the bottom line.
Whether it's to serve customers better or to offset a tight labor market, dry cleaners are increasingly turning to automation. We discuss this trend with Christopher White, executive director of America's Best Cleaners, and Will Waterstraat, managing partner of Seattle-based Helena Cleaners.