FAIRFAX, Va. — Reid Bechtle is the newly appointed chief executive officer for ZIPS Dry Cleaners, the Mid-Atlantic dry cleaning franchise chain has announced.
This comes on the heels of the company's recent acquisition by JPB Capital Partners, a Maryland-based private equity firm that makes control investments in lower-middle market companies located primarily in the Mid-Atlantic and Southeast United States.
"ZIPS is the perfect opportunity to work with a proven franchisor and enhance a franchise network that is poised for aggressive growth," Bechtle says. "Together with JPB Capital Partners, I look forward to moving ZIPS Dry Cleaners through its next phase of growth, including improved execution of the existing system and further geographic expansion of the concept."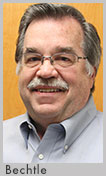 Bechtle has spent the majority of his career in senior management positions, having served much of the last 33 years as president and/or CEO for various companies in a variety of industries, including manufacturing, information services, training/education and healthcare.
He has significant experience in traditional operating environments, as well as turnarounds, start-ups and the revitalization of mature businesses, ZIPS says. He has worked successfully with public and private companies, venture-backed organizations, and family-owned businesses.
Bechtle attended the University of Pennsylvania and received a bachelor of business administration degree from the Wharton School.