ST. JOSEPH, Mich. — John D. Fetters, 92, International Fabricare Institute past president and co-owner with brother Gene of his family drycleaning business Sanitary Cleaners, died May 5, 2019, at Spectrum Health Lakeland — St. Joseph, surrounded by his loving family.
A Celebration of Life Service will take place at 11 a.m. on Friday, May 10, 2019, at Starks & Menchinger Chapel & Cremation Services, 2650 Niles Rd., St. Joseph, with Pastor David Stout officiating. Burial will follow at Riverview Cemetery in St. Joseph.
Friends may visit with the family on Thursday, May 9, 2019, from 5-7 p.m. at the funeral home.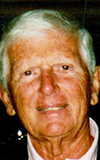 John Fetters
"John was very active in the industry," his obituary says. "He was the President of the International Fabricare Institute (IFI)." The IFI changed its name to the Drycleaning & Laundry Institute (DLI) in 2007.
He also served as President of the Michigan Institute of Dry Cleaning; President of the M.I.L.D. Workmen's Compensation Fund; and Director of the National Institute of Dry Cleaning, among others.
Fetters was born on March 30, 1927, in Benton Harbor, to Clyde and Edith (Williams) Fetters. In 1945, John graduated from Benton Harbor High School. Shortly after graduation he proudly served our country by enlisting in the United States Navy.
After returning home, he enrolled at DePauw University, located in Greencastle, Ind., where he became a brother in the Delta Tau Delta fraternity. Fetters graduated with distinction in 1950 with a degree in Economics.
John first joined his father Clyde and brother Gene in their family drycleaning and men's formalwear rental business, Sanitary Cleaners, after he returned from college, his obituary notes.
The two brothers expanded the family business to five stores in Northern Indiana and Michigan, along with ten drycleaning branches and five routes in Southwestern Michigan.
"While attending a college reunion," says his obituary, "John met the love of his life, Marilyn Holtman. On April 14, 1956, the two were married in Indianapolis.
"In 1976, John became a director of Fifth Third Bank, formally known as Peoples State Bank. He held this position for 26 years, retiring at age 75.
"John was a former member of the Benton Harbor Congregational Church and the St. Joseph Planning Commission. He was active in the St. Joseph First Congregational Church, Downtown Developmental Authority and The St. Joseph Improvement Association," it notes.
"John enjoyed traveling, specifically to Venice, Italy, and spending the winters in Lauderdale by the Sea, Fla.
"John loved to play golf. He was a lifetime member of Berrien Hills Country Club, before it was sold, as well as a member at The Point O' Woods Country Club."
Fetters is survived by his loving wife of 63 years, Marilyn; sons, John David (Coleman) Fetters of Mineral Point, Wis. and Jeffery (Claire) Fetters of St. Joseph; and grandsons, Zachary (Sita) Fetters and Ryan (girlfriend, Brytanie Killebrew) Fetters. He was preceded in death by his parents Clyde and Edith; and brother Gene (Mildred) Fetters.
Memorial contributions may be made to The Humane Society of Southwest Michigan or St. Joseph First Congregational Church. Those wishing to leave an online condolence may do so at www.starks-menchinger.com.