HOT SPRINGS VALLEY, Ark. — John Grady Tipps, 72, drycleaning consultant, died Monday, July 29, 2019, it was reported on the Ashby Funeral Home website.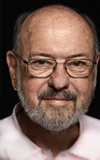 John Tipps
Tipps, the obituary notes, spent 58 years in the drycleaning sales and service industry where he was loved for his honesty and friendship. In his later years he grew a passion and love for photography which he practiced for the past 10 years.
This from Tipps' own LinkedIn site about his beginnings: "My father had a drycleaning equipment distributorship and I started working for him when I was 14, so I have been in the industry for 50 years.
"I owned my own distributorship," he had written, "served as president of Bowe Permac, imported equipment from Italy, and have owned and sold coin-operated laundries and drycleaning plants."
He noted that his specialties included: Plant design, new store sales, improving work flow, and training in drycleaning plants.
Tipps worked at Evans Garment Restoration as general manager of its Dallas plant from 2009-2010, his LinkedIn site had further noted.
It also pointed out he worked for ten years, 2009-2019, at Fimas, a manufacturer of European finishing equipment based outside of Milan Italy. "They have a full line of finishing pieces and related items for the drycleaning industry," he had written. He noted on that same website that his college education was at West Texas A&M University, Business, 1965-1969.
Tipps leaves behind his wife Connie Marshall Tipps; and three sons: Bent (Kimberly) Tipps of Keller, Texas; Don (Kristi) Tipps of Amarillo, Texas; Ty (Kristen) Tittle of Benton, Ark.; and daughter Christina (Kevin) Burchfield of Bauxite, Ark, and 14 grandchildren.
Tipps was preceded in death by his parents John J. and Fay Tipps, of Lubbock, Texas, and brother Don E Tipps, of Lubbock, Texas.
The family notes that visitation will be Saturday, August 3, from 1 to 2 p.m. at Ashby Funeral Home, 108 W. Narroway, Benton, Ark.. This will be directly followed by a memorial service at 2 p.m.