BERKLEY, Mich. — CRDN, the Certified Restoration Drycleaning Network, has promoted Bob Fearon to vice president of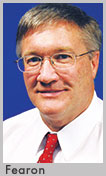 operations, according to CEO Wayne Wudyka.
Prior to joining CRDN in 2005, Fearon spent more than 10 years with an insurance restoration contractor, serving in several roles, including quality service representative, field trainer, division general manager and regional manager.
"Bob has played several key roles for us, particularly handling operational duties nationally, and he has been instrumental in the development of our Program Management Department, which is a valuable advantage for our clients," says Wudyka.
"Going forward, Bob will be more actively engaged with high-level relationships between CRDN and strategic clients, including Third Party Administrators (TPAs) and designated insurance carriers," Wudyka adds. "Bob's breadth and depth of experience will enable him to continue developing our team and enhance the services we provide to our clients."
CRDN is an international organization of experienced, highly trained textile experts who specialize in insurance restoration laundry and drycleaning services for all types of loss, the company says.